Edward 'Ted' Rogers was born 1900 in Toronto.  He attended Toronto's public schools and developed a passionate interest in radio at an early age.  He attended the University of Toronto, initially reading electrical engineering and subsequently enrolling in the University's School of Practical Science, graduating in 1922 and then joining the Canadian Independent Telephone Co. Ltd. (CITCo) as a radio engineer.
CITCo had launched a spin-off company, The Canadian Radio Corporation Ltd. (CRC) in 1920, located at 212-216 King St. Toronto, acquiring licenses and patent rights for manufacturing radio equipment, including those held by Lee de Forest and Edwin Armstrong.  The King St. building also housed offices and showrooms of the Canadian General Electric Co. (CGE), and CRC leased manufacturing space from CGE at their Ward and Wallace Avenue factory.  CITCo built horn loudspeakers and assembled de Forest radio receivers, sold under the CITCo label.  One of Ted Rogers jobs was to work on improving the performance of the transmitting equipment (installed by CITCo) for Toronto's first commercial radio station, CFCA, which started broadcasting in 1922.  He was also involved in overcoming issues associated with operating radios from AC power (home-lighting) power sources in place of batteries, eg. hum.  On a visit to the Westinghouse Company's East Pittsburgh factory on CITCo business, Ted saw several experimental tubes that incorporated improvements attributed to Frederick McCullough, an engineer at the Westinghouse plant.  Rogers considered that these tubes were commercially viable in a 'batteryless' radio once production challenges were overcome.  So much so, that he made private arrangements to acquire the rights to McCollough's patents.  Subsequently, a number of Canadian patents were applied for by Rogers.  At this time, CITCo and its subsidiary, the Canadian Radio Corporation were having financial difficulties and the company assets, including the de Forest and Armstrong patent rights were acquired by the Rogers family.  The Rogers Radio Company was formed in 1924, with two limited liability companies registered: Rogers Radio Ltd. and Heliotron Tubes Ltd., the later as a manufacturer, importer and exporter of radio tubes.  Proceeds from the license fees received by McCullough from the Rogers family gave him the means to leave Westinghouse and work on developing his tube designs and manufacturing them under his own company, FS McCullough Company Research Laboratory in Pittsburgh.  Rogers, using samples of the McCullough tube, worked on resolving latent manufacturing difficulties with input from McCullough, eventually resulting in three Canadian patents in 1925 and manufacturing tubes identified as 'Canadian McCullough Radio AC Tube' - eventually, as further improvements attributed to Rogers were incorporated, 'McCullough' was dropped from the name.  Some prototype batteryless receivers were produced, and a number of these were sold.  Rogers registered 'batteryless' as a trade name,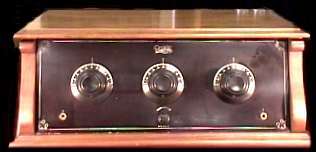 with production receivers to me marketed as 'Rogers Batteryless', with manufacturing being undertaken by a new company formed by Rogers, the Standard Radio Manufacturing Corporation Ltd., with tube manufacture by Rogers Radio Ltd.  Rogers first AC-heated amplifying tube, the 'AC-35' went into commercial production in April 1925, along with the R-100 rectifying tube, and the first eight commercial AC-powered radio receivers, including Rogers Batteryless Models 20 (2 tube), 30 (3 tube) and 50 (5 tube), were launched at the Canadian National Exhibition in August that year.  The Model 120, pictured right, using a 5 tube circuit,  sold for $260 including tubes and power supply but less a loudspeaker.   The more expensive Model 100 was a solid walnut floor console model including a loudspeaker selling for $370 while the Model 110 was identical except minus the legs and sold for $335.  For the radio listener still not served by electric power, the Model 100 was made available less power supply as a Model 105.  A strong dealership network for sale of the receivers was soon established Rogers, and a second manufacturing facility was established at 858 Dupont St. in Toronto to cope with the demand for the sets.  With the introduction of the single-ended AC-30 triode in 1928, Rogers Radio Ltd. became the Rogers Radio Tube. Co. Ltd.
Realizing that to help sell radios he required local broadcast content.  Rogers initially converted his 500 watt Ham Station 3BP to the worlds first batteryless broadcasting station 9RB.  The new 1kW 9RB transmitter went on the air from Aurora, north of Toronto, in January of 1927 on a frequency of 1030 kHz.  Station 9RB remains on the air as radio station CFRB in Toronto, short for 'Canada's First Rogers Batteryless'.
 A major change occurred in November of 1928 when the largest independent American radio manufacturer, Grigsby-Grunow, consolidated its Majestic line in Canada with that of the Standard Radio Manufacturing Corp., becoming 'Rogers-Majestic Corp.'.  This merger gave both companies the skills and patents necessary to compete with other major companies who were beginning to utilize the new Westinghouse UY-227 tube in their receiver designs.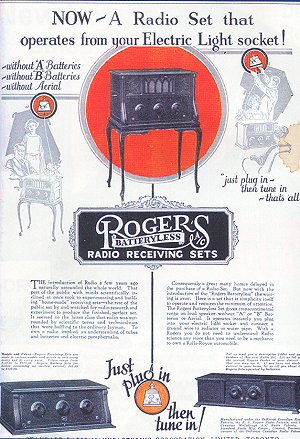 Ted Rogers died in 1939 at the young age of 38 from a haemorrhaging ulcer which his son, Ted Rogers Jr. attributed to his fathers non-stop work.  In 1941, all Rogers-Majestic assets were sold to a British-owned cable-cast company, Rediffusion (Canada) Ltd, with their plants involved in wartime military equipment manufacture.
In recognition of his tremendous contribution to Broadcasting, Edward Samuel Rogers, Sr. was inducted into the  Canadian Association of Broadcasters (CAB) Broadcast Hall of Fame in 1982.